Emergency flood bulletins for Cyclones Idai and Kenneth: new GloFAS paper out now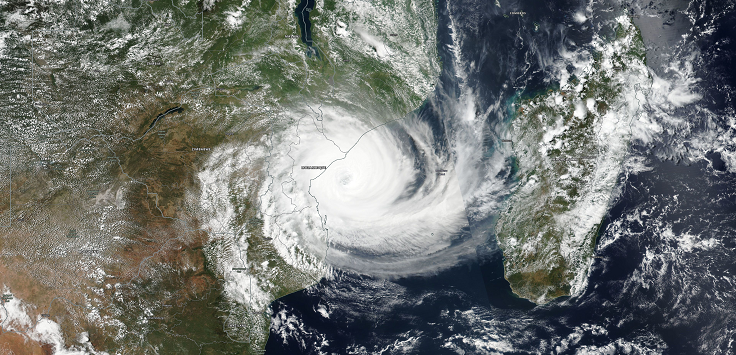 In 2019, forecasts from the Copernicus Emergency Management Service's Global Flood Awareness System (GloFAS) were used to provide real-time emergency flood forecast bulletins to support international humanitarian decision-making ahead of and during two devastating tropical cyclones, Idai and Kenneth, in Mozambique.
Through the UK's Science for Humanitarian Emergencies and Resilience (SHEAR) research programme, the UK Government's Department for International Development (DFID, now the Foreign, Commonwealth and Development Office FCDO) was able to task a group of scientists from the Universities of Reading and Bristol, in close collaboration with ECMWF, to produce flood forecast bulletins in response to Cyclone Idai's landfall in Mozambique, and again ahead of Cyclone Kenneth's landfall just a few weeks later.
The bulletins detailed the probability and timing of flooding in major rivers across Mozambique, and GloFAS forecast data was used by the University of Bristol to undertake detailed flood inundation and risk modelling to further provide population exposure estimates. These were sent to DFID, who disseminated the bulletins to the UN OCHA and international humanitarian organisations.
A paper has now been published in the International Journal of Disaster Risk Reduction, providing an overview of the two cyclones and why this team produced these bulletins, an evaluation of the ECMWF tropical cyclone forecasts, GloFAS flood forecasts and the exposure information, and a critical evaluation of the use and usefulness of the bulletins for humanitarian decision-making, including an open discussion of the challenges and lessons learned, and recommendations for the provision of such information for future events.
You can read the full paper, a collaboration between SHEAR researchers at the Universities of Reading, Bristol and Oxford, and ECMWF, DFID (FCDO), the Technical University of Mozambique and the UK Met Office, here: https://doi.org/10.1016/j.ijdrr.2020.101811.
Photo by courtesy of NASA Worldview.
By Rebecca Emerton Sept. 25, 2020, 3:44 p.m.