New maximum flood extent feature for the CEMS Global Flood Monitoring product released!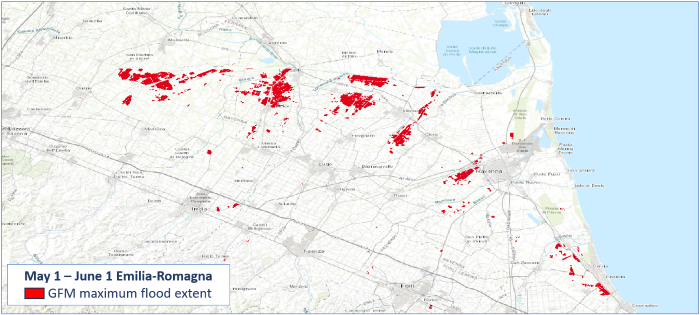 On June 6 2023 a new feature of the CEMS Global Flood Monitoring (GFM) has been released allowing users to generate the maximum flood extent. This novel feature allows users to download, for each AOI, the automatically-generated composite showing the maximum flood extent of the available observed flood layers within a specific timeframe (for now, the limit is set to two months).
The query can be submitted via both the GFM portal and the REST-APIs, giving the users also the chance to decide whether to retrieve the data as a vector (geojson), a raster (OCG) or in both formats.
Further guidance on how to properly use this new functionality is available in the Product User Manual (https://extwiki.eodc.eu/GFM/PUM/DataAccess/WebApp) and in the quick start guide (https://360.articulate.com/review/content/5ff335b6-3d21-4df0-9adb-510d011793b1/review)
By Peter Salamon June 13, 2023, 1:44 p.m.