GloFAS used for fastest forecast based financing allocation in UN history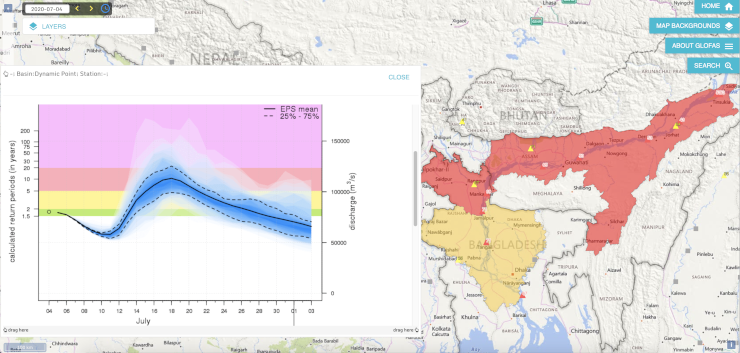 The UN released $5.2 million dollars in humanitarian aid to the people of Bangladesh on 4 July to prepare before a forecast flood peak in mid-July. The finance trigger was based on the Copernicus Emergency Management Service (CEMS) Global Flood Awareness System (GloFAS), in which ECMWF is the computational centre.
A report published on 15 July by the UN stated: "On 4 July, the Global Flood Awareness System (GloFAS) 10-day probabilistic forecast predicted that the areas targeted with the pilot have a greater than 50 percent chance of experiencing a severe flood between 14 and 16 July. This activated the first stage of the pilot, releasing funds and allowing agencies to ready for an activation.
The full details of of this innovative forecast based forecast approach for the event can be in the report here: UN helps monsoon-affected river communities in Bangladesh before peak flooding
By Shaun Harrigan July 20, 2020, 5:46 a.m.