Global Dialogue Platform anticipatory hub session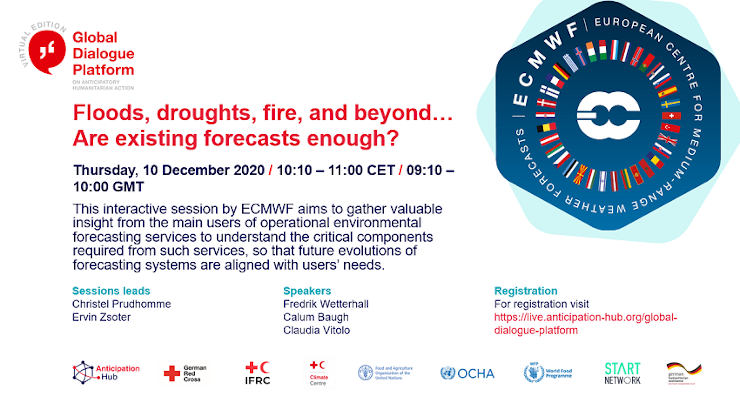 We invite you to participate in the 8th Global Dialogue Platform on Anticipatory Humanitarian Action held virtually from the 8-10 December 2020.
ECMWF will host an interactive session on 'Floods, droughts, fire and beyond… Are existing forecasts enough?' This session aims to gather valuable insight from the main users of operational environmental forecasting services, including from humanitarian aid community as well as other sectors, to understand the critical components required from such services, so that future evolutions of forecasting systems are aligned with users' needs.
The session will cover 3 main questions:
'What': What is the most useful information? – it can be the variable considered, the forecast quality, the forecast lead time horizon or the spatial granularity?

'How': What is the most effective way to disseminate the information? Do you want data, maps, briefs, alerts?

And 'when': At what time and how often do you need the forecast updates?
This session will be held at 10.10-11.00 CET (09.10-10.00 GMT) on Thursday 10 December 2020. Registration for the event is now open. You can register here, or visit the website for more details https://live.anticipation-hub.org/global-dialogue-platform
We hope you see you at the event! And please advertise the event in your networks.
By Karen O'Regan Dec. 3, 2020, 3:54 p.m.